Edinburgh Council in road repair crackdown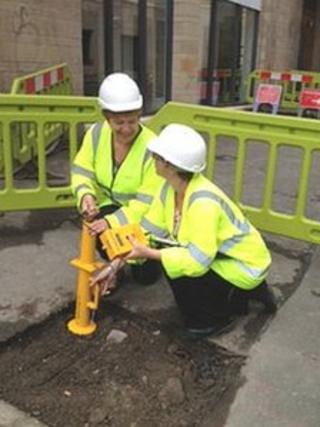 Edinburgh City Council is cracking down on utility companies who do not repair roads properly after they have carried out work.
It has employed extra inspectors to ensure gas, electricity, power and phone companies restore streets and pavements to an adequate standard.
About 80% of Edinburgh road works are carried out by utility companies, and approximately 15% of them have defects.
Edinburgh City Council has now employed two new inspectors.
The council aims to increase the number of inspections every year from 13,000 to 20,000.
Transport convenor Lesley Hinds said the council will be tough on any companies whose repair work does not come up to standard.
Failure rate
She said: "The state of roads and pavements in Edinburgh is a high priority for the public and the Capital Coalition, and it is extremely important to make sure that disruption caused by re-instatement works is kept to a minimum.
"The public, quite rightly, get very frustrated when they see roads or pavements deteriorating because of poor workmanship by utilities contractors.
"By increasing the number of inspectors we hope to achieve a long-term reduction in the failure rate and an improvement in the condition of the road network.
"It is also vitally important in terms of public safety that roads and pavements are reinstated properly, as defective repairs can be dangerous."