Most rough sleepers in Scotland are on Edinburgh's streets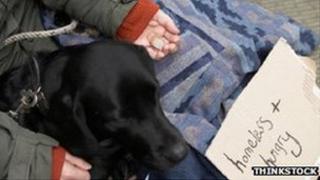 The number of people sleeping rough on the streets of Scotland exceeds 1,700 - with Edinburgh topping the table.
Details have been published in a Scottish government report on homelessness.
The highest numbers of rough sleepers are in the Edinburgh and Dundee council areas. But none were reported in three local authorities - Falkirk, South Lanarkshire and West Lothian.
The report shows Edinburgh had 363 rough sleeper cases and Dundee had 97.
The figures are based on data collated from individuals who stated they had slept rough the night before applying for assistance.
The overall Scottish total is 1,737, according to the report Operation of the Homeless Persons legislation in Scotland.
In 2012-13 there were 39,827 homelessness applications, 5,720 (13%) lower than the number in the same period in 2011-12.
Applications fell in 29 out of Scotland's 32 local authorities but increased in East Renfrewshire, Moray and Scottish Borders.
The report states that the fall is mainly due to the impact of housing options and homelessness prevention strategies adopted by most councils in recent years.
Although applications have fallen, there was an increase of 75 (16%) from those applying due to mortgage default - up to 543 from 468 the previous year.
The main reasons for applying as homeless have remained unchanged over the past year.
Relationship breakdown is the primary cause with 28% of applicants citing household dispute and a further 26% being asked to leave home.
Rent arrears or mortgage defaults account for around 5% of all homelessness applications while 6% of applications are from those leaving prison, hospital, care or another institution.