Three held over Muirfield Open tickets 'fraud'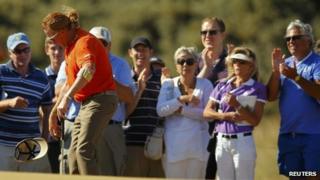 Three men have been detained by police investigating an alleged ticket fraud at the Open golf tournament.
Police Scotland said the men - aged 34, 47 and 52 - are not local to East Lothian.
A number of fake tickets have been seized by officers.
Police said the people who had presented the tickets at the entrance gates were spoken to as witnesses, and then given the option to buy valid tickets.
Wardens from East Lothian Council will be joining police officers around Muirfield and Gullane over the weekend to identify unauthorised people selling tickets.
Supt Phil O'Kane, in charge of the policing operation at the Open, said: "The Championship is a major international sporting event and it is only to be anticipated that unscrupulous people will try to exploit it.
"However, due to the vigilance of the security staff and the police officers on the course, these fraudulent tickets were identified.
"Inquiries are ongoing into this fraudulent ticket activity.
"The focus of the policing operation at the Open is on keeping people safe and that extends to protecting them from those who are trying to defraud them."