Woman hurt after car in Livingston hit by object thrown from bridge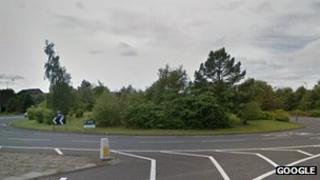 A woman received cuts to her arm after her car windscreen was hit by an object thrown from a bridge in Livingston.
The incident happened on the A899 between the Lizzie Brice's and Deer Park roundabouts at about 01:05.
The car, which also contained two small children, had been passing under the footbridge linking Dedridge and Mid Calder, near the Lizzie Brice's roundabout.
Police have appealed for witnesses to contact them.
Sgt Symon Miller, from Police Scotland, said: "This was an incredibly dangerous and foolhardy thing to do. It could have had fatal consequences and it is only by sheer luck that more serious injuries and damage were avoided."
A spokesman said that although the windscreen was smashed, the woman managed to keep control of the car. She did not need hospital treatment.
Drivers have been warned to be aware of objects being dropped from bridges in the area, following a number of recent incidents.