Plea to mother after baby's body found in Edinburgh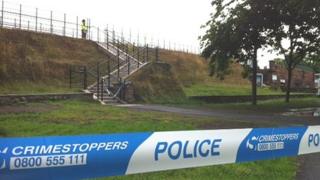 Police are appealing for the mother of a baby found dead near an Edinburgh footpath to come forward.
A man made the discovery while walking his dog near Seafield Cemetery and Crematorium on Seafield Road in Leith at about 17:00 on Sunday.
The police are concerned the mother may need medical attention.
They are also asking people to contact them if they know of anyone who had recently been pregnant, but no longer gets in touch.
Det Ch Insp Dave McLaren from Police Scotland said they did not yet know the age or sex of the baby, or how long remains had been there.
He added: "The main focus of our appeal is to ask if there is a mother out there who may be in need of some medical assistance or emotional support.
"I would ask that if she's out there and hears this appeal she gets in touch with us so that we can provide her, in the first instance, with that support that she may need, and secondly so that we can try to establish how this baby came to be here on the path.
"It is a young infant we are talking about, a baby, but in terms of age and sex it is difficult to say just now."
The detective said the path where the baby was found was popular with walkers, runners and cyclists and he appealed for anyone who may have seen anything suspicious in the area recently to contact police.
He went on: "The quickest way for us to get answers is for the mother or a relative or friend to get in touch if they have any suspicions about a mother who was expectant and is maybe not with child now."
Police are awaiting the results of forensic tests, but said this process could take several days.
Officers are also carrying out door-to-door inquiries.