Edinburgh Festival train journeys 'up 6%'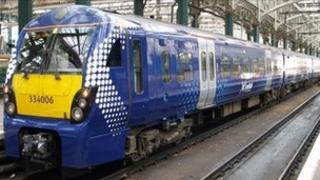 The number of rail journeys in and out of Edinburgh during its festival season rose by 6% in a year, according to the main train operator.
First ScotRail said about 1.22 million passenger journeys started or ended at Edinburgh's Waverley and Haymarket stations during August.
The total was up 64,000 on last year, according to the company.
First ScotRail said it ran its biggest-ever festival timetable this year.
The train operator, which runs 95% of all passenger services in Scotland, also said it would retain the Sunday timetable on the Helensburgh to Edinburgh line which was initially introduced for festival season alone.
The move means there will now be three new direct trains in each direction on Sunday mornings, ScotRail said.
Summer months
Steve Montgomery, First ScotRail managing director, said: "It's great news that our expanded timetable helped even more customers to enjoy another highly successful festival season in Edinburgh.
"The additional Sunday trains between Helensburgh and Edinburgh really proved their worth, and we expect them to be popular with customers enjoying sporting and shopping trips throughout the rest of the year."
The number of journeys to and from Edinburgh typically rises by almost a third during August compared with the other summer months.
While the city's festival season also tends to run into July and September, the main festival month is August with the International Festival, International Book Festival and Festival Fringe among the festivals in full swing at that time.
Last year saw the introduction of a Fringe box office at Glasgow Queen Street station, a move repeated this year in an attempt to attract more people from the city and surrounding areas to the world's largest arts festival.