Robert Hogan jailed for attempting to murder Gordon Band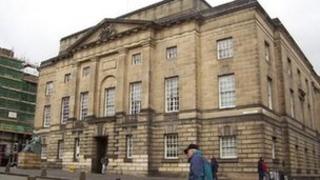 A 35-year-old man who admitted repeatedly stabbing another man after snorting lines of a herbal high has been jailed for seven and a half years.
The High Court in Edinburgh heard how Robert Hogan attacked Gordon Band with one of the victim's own kitchen knives.
Lord Doherty said that without medical treatment the injuries could have proved fatal.
The 53-year-old victim had to undergo emergency surgery after the murder attempt in Edinburgh on 31 May.
Lord Doherty told Hogan: "You pled guilty to the attempted murder of Gordon Band while a guest in his home."
He said Hogan would have faced a 10-year jail term, but for his guilty plea.
Meat knife
The court heard how Mr Band, a promoter who ran club nights, had known Hogan for about 20 years, although they had lost contact for a while.
Around Christmas last year they got back in touch and began to spend time with each other.
Advocate depute Leeane Cross said that on the evening before the attack Hogan had arrived at Mr Band's home in Edinburgh's Canongate where they were joined by others.
She said Mr Band thought that Hogan had snorted about 10 lines of a herbal high over six hours.
"During this time there did not appear to be any issues between the victim and the accused," she said.
The others left and in the morning Mr Band asked Hogan if he could leave as he had things he had to do.
"He said he would do so after a cup of coffee which the victim was quite happy with," the prosecutor added.
"The accused went to the kitchen and made a cup of coffee and returned carrying the cup which he placed on the coffee table. The victim saw that his right hand was behind his back," she said.
Deep wounds
Without warning Hogan jumped on top of Mr Band and pinned him to a sofa. He produced a large meat knife and began stabbing the victim.
Hogan, of no fixed abode, fled from the flat after the assault and Mr Band phoned for an ambulance. Paramedics arrived to find him clutching a blood-soaked towel to his chest and stomach.
He was taken to hospital with five deep wounds to his torso and another eight injuries to his left arm.
He underwent surgery to repair holes to his stomach, bowel and colon and remained in hospital for almost a month.
Initial attempts to trace Hogan failed but on 3 June he turned up at St Leonards police station.
Hogan initially indicated he was responsible for the attack and at one point said to officers: "He got what he deserved." But during a later interview he claimed to know nothing about the assault.
Sexual abuse
The advocate depute said the attack victim had found getting to sleep difficult following the assault. She said: "He often pictures the accused standing over him with a knife."
Hogan, a former stonemason, admitted assaulting Mr Band to his severe injury, permanent disfigurement and to the danger of his life and attempting to murder him.
His solicitor advocate Ewen Roy said Hogan's behaviour was only explicable in the context of significant physical and sexual abuse that he had previously suffered from others.
The court heard that Hogan claimed that at the age of 19 he was abducted and sexually abused by a notorious convicted criminal.
Mr Roy said: "The ordeal lasted for 10 hours. It was not reported to the police for fear of reprisal."
He said it was Hogan's view that what took place "effectively ruined his life" and had remained with him.
He added that his client did not have a great deal of recollection about the attack on Mr Band.