Loopy Lorna's Tea House in Church Hill Theatre to close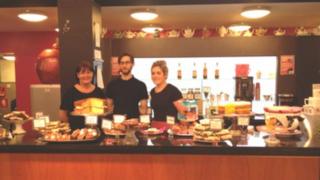 The owner of an award-winning tea room based at a theatre in a historic Edinburgh church has been forced to close following a battle with cancer.
Gaynor Salisbury, who owns Loopy Lorna's at Church Hill Theatre in Morningside, will close its doors on Sunday.
She said it was a very difficult decision but it was one which her oncologist would be "pleased about".
She closed her other cafe in 2011 after launching the brand in 2008.
Difficult decision
Ms Salisbury told the BBC Scotland news website: "Due to my health I have not been able to visit Loopy's very much and my manager has been running the place.
"When I came in today, I just burst into tears, but it is the right decision.
"It is very stressful running a business but it was a very difficult decision.
"The cafes were a tribute to my mum who died in 1997, aged 66, of lung cancer. She was a single mum, called Lorna, and she was poor so the big treat when we were growing up was when she baked.
"I believe we were the first cafe of its kind, it is very close to my heart."
The tea house provided traditional home-baked afternoon teas served on china plates and with hand-knitted fun tea-cosies.
In October 2010 Ms Salisbury, won Entrepreneur of the Year award for Loopy Lorna's Tea House on Morningside Road.
Also in May 2009 her head chef, Michelle Phillips, won casual dining chef of the year at the Scottish Chef Awards.
When her first tea room opened in October 2008, Ms Salisbury had to shut the doors for two days to recruit and train more staff due to the number of customers.
Ms Salisbury has secondary liver cancer.