Inmates admit taking hostage at Edinburgh's Saughton prison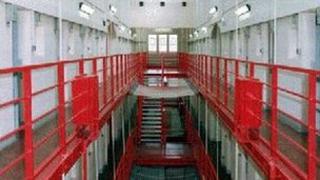 Two inmates in Edinburgh's Saughton jail took a fellow prisoner hostage before demanding a bus to take them to HMP Barlinnie in Glasgow.
Andrew Kinloch, 25, and James Quinn, 27, were armed with homemade weapons known as "double whammys" - razor blades melted into plastic.
The pair admitted assaulting and abducting a fellow inmate on 12 June and refusing to release him.
They put a weapon to his throat and held him in his cell for five hours.
The High Court in Edinburgh heard Kinloch and Quinn, who were cell mates, told hostage James McLaren they were not going to hurt him but they "had to do this to get out the jail".
Quinn then told prison officers he had been trying to get a transfer for six months and asked to speak to the governor.
Stand-off
He then listed their demands, which included a bus trip across central Scotland to Barlinnie, as well as Kentucky Fried Chicken, a Chinese takeaway and tobacco.
After negotiations they agreed to hand over one of their weapons for a quarter ounce of tobacco.
The High Court in Edinburgh heard that the stand-off ended when they realised there was nothing more to be gained.
Lord Uist told them: "You have both pled guilty to a very serious offence committed in Saughton prison when you were serving prisoners involving the abduction of another prisoner, the presentation of weapons to him and demanding transfer to another prison and making other demands."
The judge said: "We cannot have this sort of thing going on in prisons. Discipline has to be maintained."
Sentence was deferred for reports.
Quinn was jailed for four years in 2008 for a serious assault on a child and was given a further four-year period on licence. He was jailed again earlier this year for possessing a weapon.
Kinloch was jailed in January of this year for 33 months following conviction for three charges of robbery or attempted robbery, two of which were aggravated as the offences were committed against a child.
McLaren suffered only a small injury to his neck and the siege ended peacefully when Quinn and Kinloch agreed to leave the cell and a second weapon was recovered.
Kinloch is now in Greenock prison.