Peter Higgs to be given Freedom of Edinburgh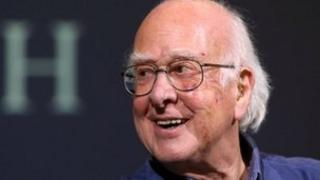 Professor Peter Higgs is set to be honoured with the Freedom of Edinburgh.
The Nobel Prize winner is set to be recognised for his lifetime's work and contribution to theoretical physics.
Councillors are being asked to approve the honour, which is given to people who have distinguished themselves through their work.
Other recipients of the accolade have included the Queen, Prince Philip, Sean Connery, Nelson Mandela, Aung San Suu Kyi and Sir Chris Hoy.
Prof Higgs has lived and worked in Edinburgh for more than 50 years.
It was in the city that he had his "big idea" in 1964 - an explanation of why the matter in the universe has substance, or mass.
His work theorised the existence of a new particle that has come to be known as the Higgs boson.
His discovery has earned him numerous awards, most recently the Nobel Prize for Physics.
'Immense contribution'
He was a recipient of the Edinburgh Award in 2011.
Lord Provost Donald Wilson submitted the motion, which will be be considered by council next Thursday.
He said: "I think it is absolutely right that we, the people of Edinburgh, recognise his immense contribution to science.
"His achievements with the University of Edinburgh are of global significance and this latest honour will be further evidence of the high esteem in which he is quite deservedly held, not just by his peers but by the people of the city he now calls home."
Prof Higgs said: "I am extremely pleased to be offered the Freedom of the City of Edinburgh - the city that I have grown to love and has been my adopted home for almost all of my working life."
It is likely that the professor will receive his award in a private ceremony hosted by the Lord Provost early next year.