US Airways to offer new service between Edinburgh and Philadelphia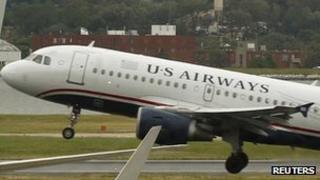 A new non-stop flight between Edinburgh and Philadelphia is to be launched by a major airline next year.
The scheduled service will be operated daily by US Airways between May and October. It was welcomed by ministers and tourism chiefs.
They said it was a "timely vote of confidence in Scotland" as it prepares to host the Commonwealth Games and the Ryder Cup in 2014.
A 176-seat dual-class Boeing 757 aircraft will be used on the route.
Gordon Dewar, Edinburgh Airport's chief executive, said: "This is another great result for Edinburgh.
"Next summer will be a hugely exciting time with the Ryder Cup and Year of Homecoming to look forward to."
He added: "We're pleased to be working with US Airways and allowing more American passengers to experience all that Scotland has to offer.
"Scots will also have the chance to visit this amazing city and the added opportunity to travel onwards to destinations like Las Vegas, Los Angeles, San Francisco and Hawaii.
"This is not just an achievement for Edinburgh Airport but for the wider city and we're delighted to be able to share our success with our partners."
Transport Minister Keith Brown said: "This announcement will bolster Scotland's economy by supporting tourism, trade and investment, and also helps to strengthen our enduring relationship with the United States.
"Improving direct routes overseas helps to reduce the need for travellers to make extra connecting flights via London or the continent, making Scotland even more attractive to tourists and businesses.
"We look forward to welcoming visitors from the United States to Scotland in 2014 as the eyes of the world focus on our exciting programme of events which includes the Commonwealth Games, Ryder Cup and a second Year of Homecoming."
The service will begin on 23 May and run until 1 October.