West Lothian woman Kaitlyn MacDonald convicted of dog neglect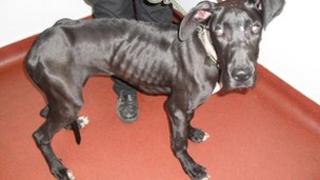 A West Lothian woman has been convicted of neglecting four dogs which were underweight and kept in filthy conditions.
Kaitlyn MacDonald, 24, from Polbeth, was sentenced to 240 hours community service at Livingston Sheriff Court.
She also received a five year ban on keeping animals and her dogs were signed over to the Scottish SPCA.
At an earlier appearance, MacDonald pleaded guilty.
She admitted failing to provide a suitable environment and nutritious diet for four dogs: Finn, a seven-month-old great Dane puppy; Bandit, a four-year-old Alaskan malamute; Misty, a five-year-old female collie; and Draco, a 10-month-old German shepherd, an offence under section 24 of the Animal Health and Welfare (Scotland) Act 2006.
Ch Supt Mike Flynn, of the Scottish SPCA, said: "When our inspectors entered the property they found Finn in a wire cage with no food or water present and urine seeping from the base of the cage.
"Finn was extremely thin with all his bones prominent and visible.
"Bandit, Misty and Draco were kept in a filthy kennel and run at the back of the property which was full of large quantities of faeces and heavily soiled bedding.
"Our inspectors described conditions as "atrocious" and completely unfit for the three dogs to live in."
He added: "Furthermore, there was no food or water available for the dogs to drink and when they were released from the kennel they ran to a bucket filled with rain water and drank large amounts, indicating they had been deprived of water for some time.
"All three dogs were in thin body condition and their legs and feet were heavily soiled with excrement.
"This case is particularly concerning given MacDonald's occupation at that time as an animal carer."