Edinburgh Dog owner Ian Davidson banned from keeping pets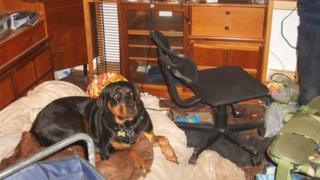 An Edinburgh man who admitted keeping his dog in filthy living conditions has been banned from owning animals for two years.
Ian Davidson, pleaded guilty to failing to provide a suitable environment for his rottweiler Lola, contrary to animal health and welfare laws.
In addition to the ban, Davidson, 50, from Muirhouse, was fined £250.
The Scottish SPCA said there was dog excrement and rubbish throughout the house.
Overgrown nails
June Chalcroft, of the Scottish SPCA, said: "The flat had a foul smell and was extremely unhygienic, with dog excrement and rubbish throughout.
"The environment Lola was being kept in was disgusting and completely unsuitable.
"She was also overweight and had overgrown nails."
She added: "We are pleased that as a result of our investigation Davidson now has a criminal record for neglecting his dog and Lola will not be returned to his care.
"While Davidson has been banned from owning or having possession of any animal for two years, in our opinion a life ban would have been more appropriate as we believe he is unfit to provide even the most basic care a pet requires."