Pentland Hill Nursing Home: Inspectors say it must improve 'immediately'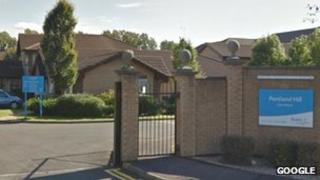 Care inspectors said BUPA's Pentland Hill residential home in Edinburgh must show immediate evidence of significant improvement or it will face closure.
Police are already investigating the deaths of four residents at the home.
BUPA has been given until this week to meet care standards. A decision on its future is due soon afterwards.
The Care Inspectorate said from its visit in October it found the quality of care, leadership and staffing at Pentland Hill was unsatisfactory.
Alex Hunter, whose mother Beatrice is a resident at the home, described the treatment received by his 88-year-old mother as "shocking".
Bupa said it believed they were on track to deliver the changes required and have invested significantly in the home, bringing in new specialist staff and providing a better medication management plan.
It said they continued to work with the police, the council and the care inspectorate.
'Sober reading'
A Care Inspectorate spokesman said: "The health, safety and wellbeing of residents is the absolute priority, which is why we served BUPA with a formal Improvement Notice in August.
"We inspected again in October, unannounced, to test whether the changes we required were made.
"This report shows evidence of some change to how the home is run and managed, including better external support and a new manager, but we are still not satisfied by the overall quality of care being delivered.
"Our team of 11 inspectors and healthcare specialists found poor practice in medication, tissue viability and at mealtimes, and our report makes sober reading.
"The quality of care, staffing and leadership remains unsatisfactory."
Andrew Cannon, Bupa Care Services managing director, said: "This report follows an inspection completed over six weeks ago.
"Since then we have continued to make improvements to the home which the Care Inspectorate report has recognised.
"Our residents and their families tell us they are also seeing a difference from all the changes.
"Our new home manager and her team will continue working with the Care Inspectorate to embed all the improvements so that high standards of care are achieved and maintained."