Warning after spate of stair fires in Edinburgh's Portobello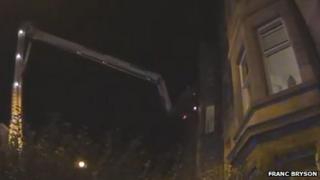 Emergency services have issued a warning after a fifth tenement fire in the Portobello area of Edinburgh in the past few days.
Sixteen people were rescued after a fire in a stairwell in Bath Street on Sunday night.
The Scottish Fire and Rescue Service said another three people were take to safety after a blaze in Ramsay Place on Monday afternoon.
Police are investigating and fire crews urged people to keep stairwells clear.
Firefighters with breathing apparatus tackled the Ramsay Place blaze, which broke out at about 15:00.
Three people were rescued and one 60-year-old man suffered slight smoke inhalation. He was assessed at the scene but did not require hospital treatment.
Group Commander Steve Gourlay said: "We would urge people not to store combustible materials in the stairwells of tenement blocks as this increases the risk to fires starting."
Local crews will be providing community safety reassurance visits over the next two days.
A Police Scotland spokesman said: "Police in Edinburgh are investigating following a number of fires within stairwells in Portobello over the past 24 hours.
"Anyone with information that can assist with our inquiries is asked to come forward immediately."
In Sunday's blaze six people, including two children, were rescued by ladder from an upper floor in the Bath Street flats.
Zedd Stephen, 45, who has lived in the street for five years, told the BBC Scotland news website he thought he and his family were going to die in the fire.
"We were all choking, feeling unwell and thought we were going to lose our lives as it was that bad," he said.