Guinea pig found on Lothian bus in Edinburgh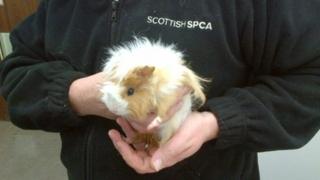 A guinea pig has been found abandoned on an Edinburgh bus with urine scald on its feet and covered in mites.
The female ginger and white, long-haired guinea pig was found by a passenger aboard the number 44 Lothian bus in Brunstane on Sunday.
It is now in the care of the Scottish SPCA's Edinburgh and Lothians Animal Rescue and Rehoming Centre in Balerno, and has been named Cracker.
The animal was in a box, saturated with urine, and had an empty bowl.
Duncan Robertson, Scottish SPCA animal rescue officer, said: "Cracker was found inside a cardboard pet carrier which was saturated with urine. There was also a bag of food, a packet of sawdust and an empty bowl inside.
"She had urine scald on her feet and was suffering from mites so she has been receiving antibiotics and pain relief in our care.
"We think it's very likely Cracker was abandoned but we also can't rule out the possibility someone may have been transporting her and left her behind when they got off the bus.
"Either way, we are very glad Cracker was found by someone who helped her."
She added: "We are keen to hear from anyone who recognises Cracker and knows who she might belong to."