Forth Road Bridge gets artist in residence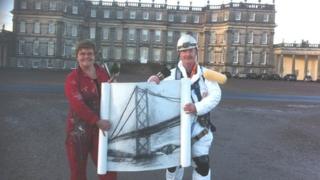 An artist in residence has been appointed to mark the 50th anniversary of the Forth Road Bridge.
Landscape artist Kate Downie will work on the bridge to create an exhibition of art.
She will reflect on three centuries of bridge building as the road link is sandwiched between the rail bridge and the new Queensferry crossing.
Ms Downie said: "I am thrilled to be installed as artist-in-residence at the Forth Road Bridge."
She added: "I have always been fascinated by places where our natural landscape and man-made structures converge, and the Forth Estuary is a prime example of where these two worlds meet.
"Over 24 million vehicles cross the bridge each year, along with thousands of walkers and cyclists, making everyone's experience of the bridge a very different and personal one.
"I will reflect this in my work by producing numerous pieces, created to a central theme and each with a differing approach in terms of size, scale and the perspective taken."
Lesley Hinds, convenor of Feta - the organisation which manages the bridge, said: "2014 is a big year for the Forth Road Bridge - one of Scotland's most iconic structures - and I am delighted that we have secured an artist of Kate Downie's standing to record its history.
"The construction of the new Queensferry Crossing will change the face of the Forth forever, lending even greater prominence to the part Kate's pieces will play in the bridge's history."