Edinburgh trams: first Princes Street night test complete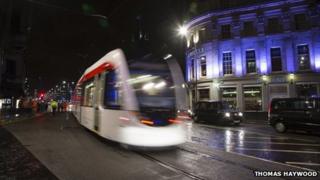 One of Edinburgh's new trams has completed the first test run along the city's most famous shopping street.
Tram 264 made the journey on Princes Street late on Wednesday night, flanked by teams of engineers.
It travelled from the tram depot at Gogar on Edinburgh's western outskirts to York Place in the city's east end.
The tram crew and engineers completed the necessary track tests ahead of schedule, returning to the depot in the early hours of the morning.
It was the first time since 1956 that a tram has run on Princes Street. Council bosses said it was another indication that they were back in control of the troubled project.
Edinburgh's transport convener, Councillor Lesley Hinds, told BBC Scotland: "We have completed a really significant step forward this evening by bringing the tram onto Princes Street and then onto York Place.
"We have really taken this project by the scruff of the neck over the last year and a half. We have all worked together, whether it be councillors, Transport Scotland, council officials or contractors, to make sure this project gets back on its revised timetable and its revised budget."
The tram line is due to begin carrying paying passengers by spring next year. An exhaustive testing programme has to be completed before then.
Tom Norris, the General Manager of Edinburgh Trams, said: "It is the start of a long process of testing in the city. Tonight is all about checking that the infrastructure is how it should be.
"Things are going well at this stage, so it's also a good opportunity for our drivers to experience driving in the city centre for the first time."
The city council said it was confident it could meet the revised budget of £776m and the latest target of the line operating by summer 2014.
About 130 staff will work on the Edinburgh tram line once it goes live. Earlier this year 1,336 people applied for 57 tram driver and controller positions.