Six-foot-long snake found in West Lothian woods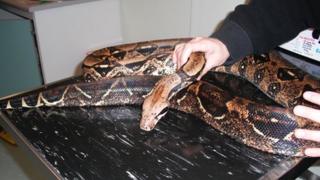 A six-foot-long boa constrictor snake has been found in a West Lothian wood.
A member of the public called the Scottish SPCA after spotting the creature on Wednesday in woods near Torphichen on the outskirts of Bathgate.
The snake, which weighs more than 5kg, is now at the Edinburgh and Lothians Animal Rescue and Rehoming Centre at Balerno.
The snake has been named Hank by animal welfare officers.
Jennifer Surgeon, of the Scottish SPCA, said: "It's highly likely Hank has been abandoned due to the remoteness of the location he was found.
"He very lucky to have survived his ordeal as the cold weather could easily have killed him.
"Hank was extremely subdued and completely limp when I picked him up and we weren't sure whether he was even alive.
"However, after spending time warming up beside the radiator in my van Hank soon began moving again."