Armed raiders jailed for store robbery in Fife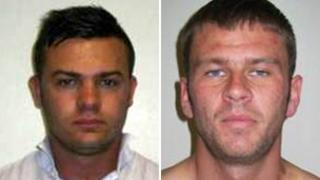 Two armed raiders who held up a Fife store have been sentenced to four years and eight months each in jail.
Jay Johnstone, 21, and Sonny Gibson, 26, were sentenced for the robbery at Malkha's News and Wine Store in Birnam Road, Kirkcaldy, on 1 July 2013.
Lord Pentland sentenced the Kirkcaldy pair at the High Court in Dumbarton following an earlier conviction.
Police Scotland welcomed the sentencing saying the shop owner had "feared for his life".
Ch Insp Derek McEwan, of Police Scotland, said: "In the early evening of the 1 July 2013, Mr Sindhu the shop owner was confronted by two men, one brandishing a gun and threatening to shoot him unless he handed over the day's takings.
"This was a terrifying experience for Mr Sindhu, who was genuinely in fear for his life.
"I welcome the sentence of both Jay Johnston and Sonny Gibson. To undertake such a violent act and terrify a decent member of the community just to steal a few hundred pounds shows an utter disregard for anyone's wellbeing.
"I would like to pay tribute to Mr Sindhu and thank the majority of law abiding residents of the Templehall area of Kirkcaldy who were disgusted by what had taken place and were quick to come forward to the police."