Three options considered for Meadowbank Stadium in Edinburgh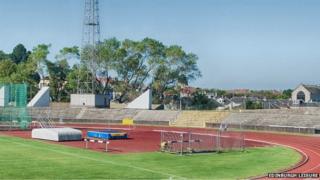 Edinburgh councillors are considering selling off some of the land around Meadowbank Stadium to fund a redevelopment of the site.
Three options are being debated next week, all would require multi-million pound loans.
Meadowbank stadium hosted events at the Commonwealth Games of 1970 and 1986 but now the multi-sports facilities are in a state of disrepair.
The outdoor athletics running track will remain.
However the track will most likely have greatly reduced spectator seating.
The velodrome is set to be scrapped and cycling facilities moved elsewhere.
All options involve selling off land for housing to help fund the redevelopment but even the cheapest option will mean the council needs to borrow more than £17m to invest in the revived facilities which are planned to open in 2017.