National Museum of Scotland staff vote to strike over pay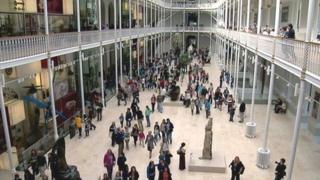 National Museum of Scotland staff have voted overwhelmingly in support of strike action in a long running dispute over weekend allowances.
Strike action was supported by 96% of Public and Commercial Services Union members taking part.
The union said for more than two years, new staff at the museum had been denied enhanced payments for weekend working, payable to other staff.
Those affected are the lowest paid who earn around the Scottish Living Wage of £7.45.
Lynn Henderson, Public and Commercial Services Union Scottish secretary, said: "Yet again low paid workers are asked to bear the burden of budget cuts in the Scottish culture sector but this time they have had enough and voted overwhelmingly to take industrial action to protect their pay from morally indefensible attacks."
A spokesman for National Museums Scotland said: "Like many other public sector organisations, National Museums Scotland has had to make a wide range of changes in order to manage the reduced budgets which have been a result of the financial crisis.
"These changes have included reducing staff numbers, reducing a range of budgets, constraining some services and introducing a change to some terms and conditions for staff newly appointed to ensure that we could continue to operate within the funding available.
He added: "Only around half of our staff who work weekends receive a premium payment and such payments are no longer common within organisations in our sector."