Forth seal pup rescued by bridge workers set free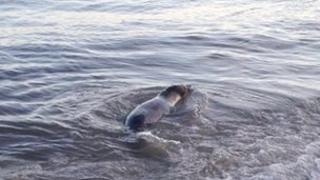 A newborn seal pup rescued by construction workers after being stranded on rocks at North Queensferry in Fife has been released.
Tiller, the male grey seal pup, was set free after three months in the care of the Scottish SPCA.
Less than a week old, weighing 13.5kg, and still fully furred, he was spotted lying on rocks by people working on the new Forth Road crossing.
As they approached the pup he fell off the rocks and into the water.
Seal colonies
After several months of rehabilitation at the Scottish SPCA's National Wildlife Rescue Centre at Fishcross, near Alloa, Tiller was fully fit and strong enough to return to the wild, weighing in at 36kg.
Colin Liddell, assistant centre manager, said: "Tiller was our first grey seal pup rescue of the season, and he's now one of the first to be released back into the water after a very successful period of rehabilitation.
"Tiller was released at Silver Sands, Aberdour, where we know there are very healthy seal colonies nearby.
"So far this winter we've rescued 53 grey seal pups, which is almost a 40% increase on this time last year, when we'd taken in 38 pups.
"We can't say for certain what is responsible for the increase but it may be due to the stormy weather we've had lately washing pups off their pupping grounds before they're old enough to enter the water."