Fantasy sketches challenge for Edinburgh art students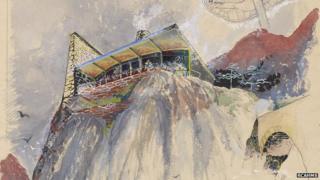 Art students are to be given 48 hours to sketch out their "architectural fantasies" in a type of competition first held in the 1930s and 40s.
Architect and prisoner of war camp forger Duncan Black was among those who competed in making the drawings, called esquisses, 80 years ago.
Thirty students at Edinburgh College of Art have registered for the new event.
Their brief is to design a living space for a future Scotland dramatically affected by climate change.
The Royal Commission on the Ancient and Historical Monuments of Scotland (RCAHMS) has devised the competition.
Learning how to present a design concept, or equisse, was an important part of the curriculum at the Edinburgh college in the 1930s and 40s.
It was a strictly timed exercise that illustrated a student's immediate reaction to a specific theme or brief and usually had to be produced within 24 to 48 hours.
The winner of the new competition will be announced next week.
Sketches by leading Scots architects Black and Hamish McLachlan, who worked with famous building designer Basil Spence, are held in RCAHMS' collections.
Black was an airman during World War II and shot down over Dusseldorf in 1943.
He was held as a prisoner of war at Stalag Luft III and worked as a forger for one of the most famous escape attempts of the war.
The attempt inspired the 1963 Hollywood film The Great Escape. Actor Donald Pleasance portrayed Black in the movie.
The Scot remained a prisoner at Stalag Luft III until it was liberated by US soldiers in May 1945.