Edinburgh Leisure suspends staff over death of Jamie Skinner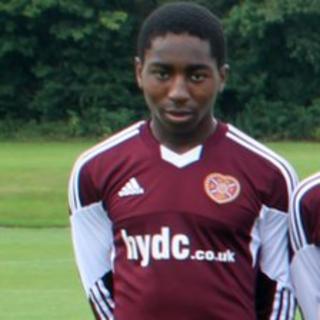 Two members of staff at an Edinburgh leisure centre where a teenage footballer died have been suspended.
Jamie Skinner, 13, was playing for Tynecastle football club's under-14s when he collapsed during a match.
The incident happened at Saughton Sports complex in Edinburgh on 22 December.
Edinburgh Leisure, which runs the site, is investigating whether its emergency operation plan was properly carried out.
Graeme Gardiner, director of operations at Edinburgh Leisure, said: "The safety of Edinburgh Leisure customers is of paramount importance and we have emergency operation plans in place in the event of any major accident.
"Following the tragic incident at Saughton Sports Complex on 22nd December 2013, in which 13-year-old Jamie Skinner collapsed and died while playing football, we have taken action to ascertain if the emergency operation plan was carried out in accordance with our standards.
"We have concluded that the most appropriate action at this time is to suspend the two members of staff who were on duty pending further investigation.
"Edinburgh Leisure is continuing to co-operate fully with police with their investigation into this as yet unexplained and tragic incident."
Jamie died despite the efforts of ambulance staff and others to revive him.
Tynecastle FC said at the time that he would have had a bright future in the game and everyone at the club was "in total shock" at his death.
Jamie had recently moved to the club after playing for Hearts Under-14s.
His funeral was attended by about 400 people, including Hearts manager Gary Locke.
Jamie's death came hours after Hibs youth player David Paul, 18, died in his sleep.