Corstorphine Hill murder trial: Philomena Dunleavy 'routinely went missing'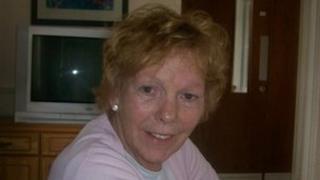 A man accused of murdering his mother and dismembering her body has told his trial that she routinely went missing.
James Dunleavy, 40, said his 66-year-old mother, from Dublin, had arrived unannounced at his flat last spring and left again without warning.
Mr Dunleavy, known as Seamus, told the High Court in Edinburgh that this behaviour was normal for his mother.
He denies killing Philomena Dunleavy and burying her dismembered body on Edinburgh's Corstorphine Hill.
Giving evidence for just over an hour, Mr Dunleavy repeatedly insisted he loved his mother.
She had been staying with him at his flat in the city's Balgreen Road before her disappearance.
He agreed he was the last person to see her alive but denied killing her.
Defence questions
Defence QC Gordon Jackson asked: "Did you do anything that would have caused the death of your mother?"
Mr Dunleavy told the lawyer: "No."
Mr Jackson: "Were you responsible for what happened to her before she got buried?"
Again Mr Dunleavy told him: "No".
Mr Jackson said three psychiatrists agreed Mr Dunleavy was suffering from some sort of mental disorder.
"I think the gravity of the crime I am accused of may have coloured their perception," Mr Dunleavy suggested. "They are entitled to their opinion."
Mr Dunleavy denied arguing with his mother just before she is believed to have died.
He suggested a neighbour who described a row had misinterpreted "a wordy discussion" between them.
Asked if he was surprised by his mother's sudden departure, he replied: "That was my mother's MO."
Mr Dunleavy claimed he had not seen any of the publicity which followed the discovery of his mother's body because he did not read newspapers or watch television.
"I did nothing to my mother. I thought she would miraculously appear again," he said.
Identity card
Advocate depute Alex Prentice QC pointed out that, when police searched the Balgreen Road flat, they found 870 euros, Mrs Dunleavy's identity card and clothing belonging to her.
They did not find a large suitcase which, it was claimed, had previously been left at the address.
Mr Dunleavy told the court he had thrown out a bed because an incontinent acquaintance who stayed with him had soiled the mattress, but denied setting fire to it.
He also insisted that workmate Matthew Hagan, who told the trial that Mr Dunleavy told him he had done "a bad thing", had picked him up wrong because of the noise of the machinery they were using.
The accused's 68-year-old father, also called James Dunleavy, told the court his wife had been badly affected by a stroke and had a long stay in a Dublin hospital.
Mr Dunleavy Snr described a phone call from his son in late April or early May last year.
"James rang me to say she was on her way home, that she would be there that night. But she never returned."
He added: "It was no surprise."
Murder charge
Mr Dunleavy denies battering to death his mother Philomena, 66, of Marino, Dublin between 30 April and 7 May 2013.
He also denies attempting to defeat the ends of justice by trying to cover up the alleged murder and destroy evidence.
At the time, Mr Dunleavy was living in a flat Edinburgh's Balgreen Road.
The murder charge alleges that it was there that he inflicted "blunt force trauma" by means unknown, compressed his mother's throat and cut off her head and legs with a blade and something like a saw.
A second charge accuses him of pretending his mother was unwell and had returned to Ireland.
The charge further alleges that Mr Dunleavy put his mother's torso, severed legs and head into a suitcase and took the dismembered body to Corstorphine Hill where he buried her.
Prosecutors also claim that he vacuumed and washed his flat to remove blood stains and set fire to a bed and mattress.
The jury were sent home early today for lawyers to put legal arguments to judge Lord Jones.
The trial is expected to hear closing speeches on Thursday.