Facebook threat murderer Ewan Dow jailed for life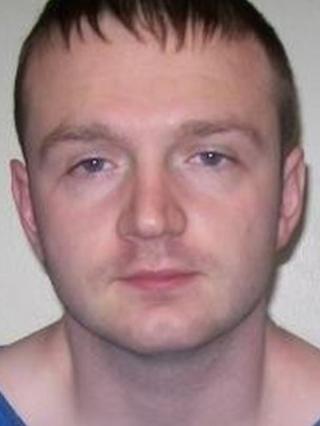 A man who posted on Facebook that he intended to kill someone before stabbing a man 171 times in a Fife park has been jailed for life for murder.
Ewan Dow, 25, attacked 21-year-old Daniel Turner with "determined brutality" in Riverside Park in Glenrothes on 18 October last year.
He had earlier sent a Facebook message in which he warned of the killing.
Dow, who pleaded guilty to murder, will have to serve 18-and-a-half years before he is eligible for parole.
The court had earlier been told that Dow and his victim knew each other, but were not friends.
On the night of the killing, Dow had gone to the home which Mr Turner shared with a friend.
Prosecutor Murdoch MacTaggart said his behaviour became "increasingly erratic".
Some of Mr Turner's friends decided to leave the flat, but the victim - who was described as being "terrified" - decided to stay.
At about 02:00, one of Dow's friends received a Facebook message in which he said he was "about to murder" someone.
At some point the two men left the flat and walked to Riverside Park in Glenrothes, where Dow stabbed Mr Turner to death.
Passing sentence at the High Court in Glasgow, Lord Turnbull said there was no justification for Dow's attack on Mr Turner.
He said: "You had simply decided that you would vent your frustration and anger and that he was to serve as the victim for that purpose. He was presumably selected because of his placid manner."
'Act of brutality'
Lord Turnbull said that the attack was "truly horrific" and showed "a level of determined brutality which must be responded to severely.
"I can only imagine the infliction of so many injuries must mean that you kept on stabbing him until you reached the stage where you had exhausted yourself.
"Given that you decided with no form of provocation that you were going to inflict wounds on an innocent young man and did so 171 times, this should be treated as an exceptionally serious crime."
Nicky Patrick, procurator fiscal for High Court cases in the East of Scotland, said: "Daniel Turner was a quiet man who was spoken of fondly by every witness interviewed by investigators.
"His murder, during which he was stabbed 171 times, was an unprovoked, cold-blooded act of brutality.
"Yet again we see the catastrophic consequences that can result from mixing knives and alcohol.
"As prosecutors we will continue to all in our power to bring those who use knives to face the full force of the law."
Det Insp Scott Cunningham, of Police Scotland, said: "Ewan Dow subjected Daniel Turner to an unprecedented level of violence during a frenzied attack, where he clearly lost control.
"Thankfully, Dow pled guilty to this heinous attack, sparing the Turner family from the heartache of a trial.
"I note today's sentence and while nothing will undo the pain they have experienced in losing Daniel, I hope they can now begin to put this traumatic ordeal behind them.
"At this time, I'd like to pay tribute to Daniel's family for the dignity and strength they have shown throughout our investigation. My thoughts are once again with them today."