Mohammed Asghar case: David Cameron 'concerned' about death row Scot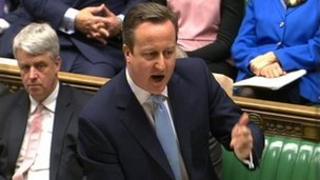 The prime minister has said he is "deeply concerned" about a man from Edinburgh who has been sentenced to death in Pakistan.
Mohammed Asghar, who has been diagnosed with paranoid schizophrenia, was convicted of blasphemy last week.
Speaking at Prime Minister's Questions, David Cameron said the UK was taking the case "very seriously".
Human rights groups including Amnesty International have previously called for Mr Asghar's immediate release.
Mr Cameron was responding to a question by Labour MP Sheila Gilmore, who represents the Edinburgh East constituency.
She was seeking assurances that ministers were doing everything possible to help Mr Asghar.
Mental health
Mr Cameron said the Pakistani authorities could be in "no doubt about the seriousness" with which Britain viewed developments.
Mr Asghar's family have said he suffers from mental illness and was treated for paranoid schizophrenia in Edinburgh before returning to Pakistan in 2010.
He was sentenced to death after being accused, by a tenant with whom he was having a dispute, of claiming to be the Prophet Mohammed in Rawalpindi, near Pakistan's capital Islamabad.
Mr Cameron said ministers had spoken to the chief minister in the Punjab. The high commissioner in Islamabad had raised it with authorities there, the prime minister added, and meetings were being held in London.
On Tuesday, Mr Asghar's lawyers said their client's mental health appeared to have seriously deteriorated and he needed urgent treatment.
Mr Asghar was "pale, dehydrated, shaking and barely lucid", they said.
Human rights campaigners in Pakistan have claimed the country's blasphemy laws are "archaic" and are often used by militant Muslims who use the legislation against adherents of minority religions.