Domestic abuser James Boyd kicked pregnant partner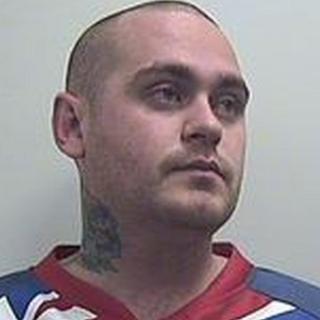 A serial domestic abuser who kicked his pregnant girlfriend in the stomach has been jailed for four-and-a-half years.
The High Court in Glasgow heard that James Boyd told his victim: "You don't deserve a child".
The 28-year-old, from Fauldhouse, West Lothian, admitted a catalogue of violent offences against five partners over a 10-year period.
Judge Lord Turnbull told him he had "deep-rooted problems" in his attitude to women.
The court heard that Boyd initially told girlfriend Jennifer Mair that he was happy about the forthcoming birth.
But, after drinking he became abusive and violent towards her and said he hated her being pregnant.
Continuing assaults
He admitted assaulting Miss Mair between May 2007 and August 2009 by threatening her, shouting and swearing at her and punching and kicking her.
He also admitted violence against four other partners.
Advocate depute Jo McDonald, prosecuting, said: "All the women comment that at the beginning of the relationship the accused was caring, but became more and more paranoid, jealous and controlling as the relationship continued and, when drinking, he was violent and abusive.
"They all describe continuing assaults and abuse throughout their relationship with him."
The court heard that the incidents came to light when the mother of one of Boyd's ex-partners contacted the police.
His first victim, who was physically abused by Boyd between July 2003 and May 2004, was just 15.
Solicitor advocate Stuart Carson, defending, said: "Mr Boyd accepts that during these relationships he suffered from jealousy.
"He was paranoid about these young women and he was controlling. He was drinking on an almost daily basis and says this was to block out memories that he had been abused as a child.
"He took out his anger on those around him. He accepts that his conduct towards these young women was wrong. He says he is sorry for what he has done."
Boyd, has 22 previous convictions for assault, racial crimes and breaches of bail.
Sensitive investigation
Sentencing him, Lord Turnbull said: "Over a 10-year period you displayed bullying and domineering behaviour.
"I'm satisfied that in the past you posed a danger to women and unless you change your attitude you will continue to be a danger to women in the future."
Boyd was also ordered to be monitored in the community for two years after his release from jail.
The 28-year-old was convicted following an investigation by the Domestic Abuse Task Force based in Bathgate.
Det Insp Helen Pasquale from the task force said: "When Police Scotland was launched one of the key priorities was to tackle domestic abuse by identifying offenders like James Boyd and bring them to justice.
"The Domestic Abuse Task Force conducted thorough inquiries, during what was a complex and sensitive investigation, which required the assistance and co-operation of his victims.
"I would like to thank those women today for the courage they have shown in helping ensure Boyd will spend a considerable period of time behind bars."