Roads to be closed as Hardengreen bridge installed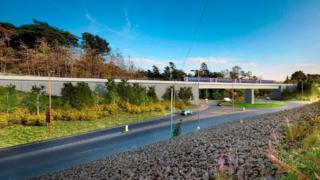 Drivers have been warned about significant disruption as the Borders Railway project reaches one of its biggest milestones.
Roads are set to be closed for the installation of the longest bridge built for the project.
The massive bridge is set to be installed over the weekends of 14-17 February and 28 February-3 March.
A series of diversions have been put in place to try and minimise disruption.
Construction of the bridge will require the closure of the Hardengreen roundabout, the A7 and all connecting local roads from the hours of 22:00 on the Friday to 06:00 on the Monday.
A 1,200 tonne crane will be used to hoist the bridge's four beams into place, with each beam weighing the equivalent of about 55 cars.
'Major undertaking'
During the installation a 30-strong specialised engineering team will work around the clock to complete the installation of the two-span bridge.
To help minimise disruption during the work, a number of local diversions will be put in place. Drivers and HGVs who use the Edinburgh city bypass are advised to use the A68 instead of the A7.
Network Rail project director Hugh Wark said: "The installation of this new bridge structure is a major construction milestone for the team.
"Not only will it transform the visual impact of the landscape and connect the railway from north to south but it is the longest bridge to be built from scratch along the new route.
"We have managed to keep the roundabout open while we construct the bridge supports, however the installation of the bridge deck is a major undertaking which will require two weekend closures."
He added: "We apologise for the inconvenience while we carry out these works but we are trying to keep disruption to an absolute minimum."
The planned works are weather dependent. Commuters are advised to check the Borders Railway website and Twitter page for up-to-date details.