New compact room hotel Hub by Premier Inn set for Edinburgh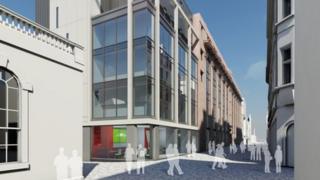 A hotel chain has announced it is to open a new 157 compact bedroom hotel in Edinburgh.
The new type of hotel, Hub by Premier Inn, on Rose Street is to be completed by late 2015. It will be the second hotel of its type in Edinburgh.
The other hotel will be a 131 bedroom "hub" in the city's historic Old Town in the former Caltongate area.
At 11.4sq m, hub rooms save on space by having a desk that slides into the wall and luggage storage under the bed.
The rooms also have an en-suite bathroom with power shower, free Wi-Fi and a 40" inch smart screen TV.
'Good value'
Hub by Premier Inn said they would be the UK's first hotel with its own app that allows guests to book and check in online, as well as pre-select their room temperature and light settings.
Guests can also choose which TV or radio channel to have playing in their room when they arrive and stream content from their smart phone or tablet direct to their TV.
Patrick Dempsey, Whitbread Hotels and Restaurants managing director, said: "As a city, Edinburgh ticks all the boxes as a perfect location for our hub brand.
"It's a popular tourist and business destination with strong demand for good value, quality hotels.
"We believe hub will prove to be a tremendous success, appealing to more price sensitive customers seeking quality accommodation in the centre of the city."