Diesel burns feathers from swan's neck in Fife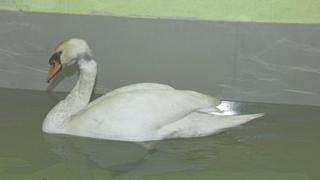 A swan which was found covered in diesel in Fife has lost the feathers around its neck due to the burning effect of the fuel.
The male adult mute swan is being cared for by the Scottish SPCA after being found at Stenton Pond in Glenrothes.
A member of the public discovered the swan hiding in bushes.
The wildlife organisation said birds can and do die from diesel contamination and urged people to dispose of oils and fuel responsibly.
Extreme burning
Staff at the Scottish SPCA's National Wildlife Rescue Centre at Fishcross, near Alloa, removed all the oil.
Colin Seddon, centre manager, said: "From the pattern of coverage it would appear that the swan had dipped his head and neck into a diesel oil spill which had possibly gathered in reeds at the edge of the pond."
Mr Seddon said diesel was an irritant which can cause extreme burning and can also do a great deal of damage if swallowed.
He added: "Thankfully we were able to clean and treat the swan before it was too late, although he has lost a lot of neck feathers due to the burning effect of the oil and he was underweight on arrival, suggesting he may have swallowed some of the diesel too."