Virgin Money: Edinburgh-based bank records profit rise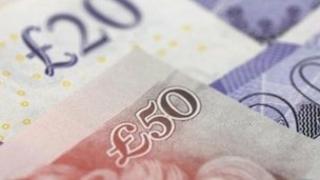 The Edinburgh-based bank Virgin Money has announced a rise in profits and 17% growth in its savings and lending.
The firm said its 2013 pre-tax profit rose from £151m to £179m and underlying profit moved out of the red to £53m.
There was 17% growth in both mortgage lending, rising to £19m, and in saving balances, which were up to £21m.
The bank claims to be making "good progress" on building the infrastructure necessary to launch current accounts and credit cards.
Virgin Money took over the "good bank" that was formerly part of Northern Rock, and rebranded it in 2012.
It is now one of the challenger banks seeking to carve a niche out in simple consumer financial products, and to become a full-service bank with a low-risk profile.
Strict test
It has built up a core tier 1 capital ratio - a measure of its security if it gets into financial trouble - of an unusually big 16%.
Sir David Clementi, Virgin Money chairman, said: "In a world where consumers remain extremely sceptical about banks and their motives, I am delighted that we have continued to increase our customer numbers and our customer advocacy.
"The outlook for economic growth and mortgage demand in the UK is better than it has been since before the banking crisis, although we note concerns about rising house prices and the potential impact on borrowers of higher interest rates at some stage.
"We are well protected against these potential changes in the environment because of the low loan-to-value ratios on our mortgages, the high quality of the Northern Rock plc book that we acquired, and the strict affordability test we apply to all new lending".