Falkirk MP Eric Joyce in court over airport incident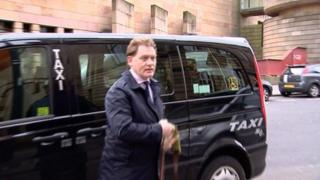 Falkirk MP Eric Joyce has appeared in court over allegations of threatening and abusive behaviour at Edinburgh Airport last year.
The 53-year-old appeared briefly in the dock and maintained his not guilty pleas to three charges against him.
Mr Joyce, from Stirling, denies committing a breach of the peace and resisting arrest.
He is also alleged to have repeatedly shouted, sworn and made offensive remarks in the airport on 19 May 2013.
The case was continued until 21 March.