West Dunbartonshire Council to discuss leaving Cosla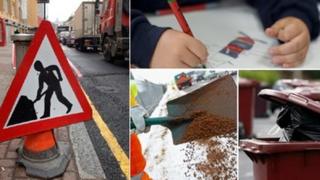 A ninth Labour council is to discuss leaving the local government umbrella body Cosla, BBC Scotland can reveal.
West Dunbartonshire Council will decide its membership at a meeting next week. The motion to serve notice to Cosla is backed by council leader Martin Rooney.
Other major councils including Glasgow, Aberdeen, South Lanarkshire and Renfrewshire have already said they plan to leave Cosla in 2015.
A row over how Cosla takes decisions is at the root of the dispute.
The motion to be discussed at West Dunbartonshire Council next week states: "Council notes that a number of Scottish council's have already served notice to quit Cosla with effect financial year 2015/16.
'Significant risk'
"This is a significant risk and potentially means that West Dunbartonshire Council's share of the running costs of Cosla could increase."
On Wednesday it emerged that North Lanarkshire Council would also decide next week whether to give notice on leaving Cosla.
Glasgow, South Lanarkshire, Inverclyde, Renfrewshire, West Lothian, Aberdeen and Dumfries and Galloway councils have already given notice.
If all the councils which are currently threatening to leave Cosla do go, it could seriously weaken the organisation and have consequences for local government across Scotland.
Without nine out of the 16 Labour-led councils in Scotland, Cosla's credibility to be seen as the collective voice of Scotland's local authorities could be undermined.
Six of the councils which may leave are in the former Strathclyde region.
Pay negotiations
Cosla deals with matters of collective interest - including negotiations with the Scottish government which provides the vast bulk of councils' money.
It also looks after national negotiations on pay.
Some Labour councillors feel that Cosla has not stood up for them against government policies - a charge the organisation denies.
In practice, it is usually difficult for Cosla to take a strong line on party political issues.
SNP councillors generally feel the government is doing the best it can for local government in difficult circumstances.