Banker Julie Fraser jailed over £218,000 fraud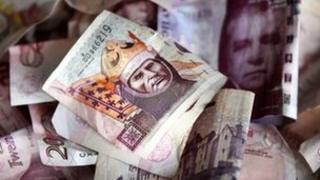 A banker who stole almost £220,000 from customers to "fund her luxury lifestyle" has been jailed for three years.
Julie Fraser was a customer relationship manager at the Bank of Scotland in Carberry Road, Kirkcaldy.
But it later emerged she had repeatedly dipped into customer's accounts and transferred money to herself.
She told investigators the customer "wasn't good with finances so wouldn't notice the money was missing".
Fraser, who had worked at the bank for 35 years, earlier pleaded guilty on indictment to a charge of embezzlement committed between May 2007 and October 2012.
The fraud, totalling £218,314.93, was uncovered by a monitoring system highlighted an "internal" transfer of £5,000 from one customer account to another.
A further probe uncovered a total of 26 transactions where Fraser had taken cash from four customers and given it to herself, over a period of five-and-a-half-years.
One of Fraser's victims had £152,500 stolen from her account.
Fraser said she needed the money because of her divorce and had used the cash to "put her daughter through university, buy luxury goods and fund a good lifestyle".
Fiscal depute Dev Kapadia told Cupar Sheriff Court that Fraser had admitted the offences as soon as she was confronted by fraud investigators.
He said: "The offence came to light on 22 October 2012 when the monitoring system highlighted an informal transfer of £5,000 from a customer's account into another account.
"Checks confirmed this had happened on more than one occasion.
"She was re-interviewed on November 12 and admitted that she had destroyed the papers relating to the transfers when she attended monthly meetings in the Perth branch."
David Bell, defending, said Fraser had worked for the bank for 35 years before she was dismissed - and that the money had been repaid from her pension pot.
Lost friendships
He said "She was divorced in 2005 and that hit her financially as well as emotionally.
"This really just spiralled to the extent the court sees today.
"She obviously lost her job and has lost the friendship of numerous colleagues."
Jailing Fraser, sheriff Charles Macnair QC said: "This embezzlement was spread over a significant period, namely five and a half years.
"You were in a position of trust.
"Whilst bankers have not perhaps had a good press in recent years their problems have not been one of dishonesty.
"People put their money into banks in the hope and expectation that is largely borne out that their money will be safe from embezzlement.
"You have failed in that expectation."