Police hunt for thief who stabbed guard with syringe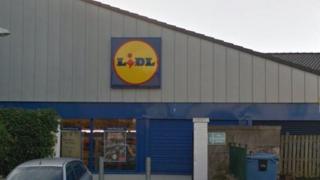 Police are searching for a man who stabbed a security guard with a used syringe after being was caught shoplifting.
The attack happened at about 12:10 on Saturday at the Lidl store in Nicholson Street, Edinburgh.
Police said the man "struggled violently" with the guard and stabbed him a number of times with a syringe before running off.
The suspect then ran north towards the city centre.
The attacker was described as being aged between 20 and 30, white, about 5ft 7in tall, with a slim build and bushy hair.
He was wearing a sandy-coloured long sleeve top, a blue body warmer with camouflaged pockets, dark blue jeans and white trainers.
Det Sgt Andrew MacRae said: "On being challenged, the man began to struggle violently with a security guard, and this continued outside the store.
"During this incident the security guard was stabbed a number of times by what we believe was a used syringe."
Police have asked anybody who may have information about the incident to contact them.