Paramedics criticised over treatment of stair fall man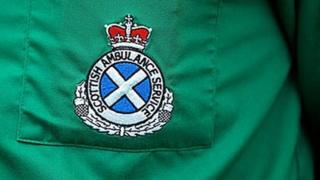 Paramedics have been criticised for not using a stretcher and neck brace on a patient who had fallen down stairs.
The man, from the Lothians, is now paralysed from the waist down.
Scotland's Public Service Ombudsman (SPSO), Jim Martin, said the man should have been immobilised before he was taken to hospital.
His report also criticised the Scottish Ambulance Service for its response to the complaints of the family of the man, identified only as Mr C.
His wife had found her husband unconscious, having fallen down the stairs at home after he had been out drinking.
When paramedics arrived at the incident, in March 2012, she said they seemed reluctant to take him to hospital, and only agreed to do so because his blood pressure was low.
Eventually they transferred him to a wheelchair and took him to the ambulance.
Unprofessional
His wife complained to SPSO claiming the actions of the paramedics led to her husband suffering paraplegia - paralysis of the lower part of the body, including both legs.
And she said she had overheard them talking about "drunks", which she regarded as being unprofessional and judgemental.
Mr. Martin said: "I obtained independent advice from an experienced registered paramedic.
"Her view was that when they first arrived on the scene, the ambulance crew should have been alert to the fact that Mr C had experienced a significant fall.
"Once the mechanism of the fall had been established (from Mrs C and her son), coupled with the decreased level of consciousness and apparent alcohol intoxication, manual spinal immobilisation should have been applied at the earliest opportunity."
Because it was not, he upheld Mrs C's complaint.
He also found failings in the way the Scottish Ambulance Service (SAS) had investigated her allegations, saying it did not appear they had taken statements from anyone involved, including the ambulance crew.
And he said SAS had told him very late in his own inquiry that one of the ambulance crew had been disciplined, and the other had left the service.
He said: "I am greatly concerned that not all of the available information was provided to me when it was requested and that the missing information was only produced at a very late stage in the investigation process.
"This does not instil confidence in the ambulance service's internal procedures."
He has called on SAS externally to audit their complaints handling processes to ensure that they are sufficiently robust and fit for purpose.