Distillery owners toast new gin in Edinburgh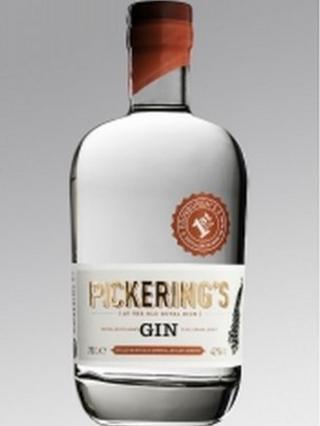 A new gin distillery said to be the first in Edinburgh for more than 150 years has opened its doors.
The bosses of Pickering's Gin said small batches of premium spirit will be distilled, bottled, labelled and sold in the city.
It has flavours of juniper, coriander, cardamom and fennel and is based on a recipe kept secret for six decades.
The gin is based on an original recipe, handwritten on a fragment of paper dated from 17 July 1947.
The recipe has been tweaked to appeal to modern palates.
The recipe resurfaced last year when the founders of the business, Matthew Gammell and Marcus Pickering, began distilling at their base at the Summerhall arts venue - the former home of the Royal (Dick) vet school.
Mr Pickering said: "The idea has been brewing for around five years and with the growing trend, popularity and resurgence of gin, now seemed the ideal time to introduce Pickering's Gin to market."
Mr Gammell said: "We've been working on the distillery transformation for many months, and we are confident that the new small-batch gin brings something new to the market, giving better choice for hotels, bars, wholesalers and consumers."
The distillery will be open for small tours and tastings on Thursday and Friday afternoons.