Rescue package agreed for The Byre Theatre in Fife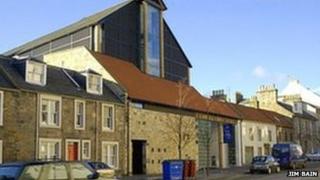 Fife councillors have agreed to a rescue package which will see The Byre Theatre in St Andrews re-open.
The historic theatre was forced to close last year because of funding problems.
A rescue package will see the council lease the theatre to St Andrews University which will then run it.
As part of the deal, local community groups will be able to use it throughout the year.
The rescue package put forward by the university included plans for the theatre's main auditorium to be used as an additional university teaching space.
It suggested that lectures could be held there for English, Social Anthropology, Film Studies and Music, while the studio theatre would be used for the teaching of drama and script-writing as well as for orchestra rehearsals.
At the weekends, it said the centre could return to being an arts centre providing a space for local arts and drama groups.
The university said the venue would also continue to support and major festivals such as The Fife Jazz Festival and On the Rocks.