Campaigners say justice system is 'failing to protect cyclists'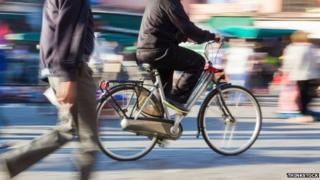 The criminal justice system is failing to protect cyclists and pedestrians, according to campaigners.
The claims are based on the results of a Freedom of Information request to Police Scotland.
Thousands of cyclists are expected to meet in Edinburgh for the annual Pedal on Parliament protest on Saturday.
Meanwhile, Transport Minister Keith Brown, who will attend the protest, has announced an additional £4.5m investment in cycling.
Members of Cycle Law Scotland want the government to introduce a system of "presumed liability" in civil cases.
In such cases, the motorist would be presumed to be liable for injury, damages or loss unless they could prove otherwise.
Figures obtained by cycling campaigners show that nine cyclists were killed and 898 injured on Scotland's roads in 2012.
But the data suggests only a small number of such collisions result in the driver being reported to the procurator fiscal.
Brenda Mitchell of Cycle Law Scotland said: "The figures showed there were 400 incidents involving motorists and cyclists in Lothian and the Borders in 2012, but only 44 were referred for prosecution.
"That suggests there isn't a robust system of criminal law in place."
Ms Mitchell said: "One of the arguments often used against a system of stricter liability for vulnerable road users is that the existing criminal law provides all the protection a cyclist or pedestrian needs.
"If drivers are regularly prosecuted for careless driving offences where cyclists have been injured, it might alter driver behaviours and at the same time protect cyclists.
"These figures suggest that simply is not the case."
But the Scottish government has questioned whether the introduction of presumed liability would make the country's roads safer for cyclists and pedestrians.
A Transport Scotland spokeswoman said: "There does not appear to be any robust evidence to suggest that the introduction of presumed liability would improve safety.
"The Scottish government, Transport Scotland and all our road safety partners are continuing to work together to try to enable cyclists to use Scotland's roads safely.
"A broad portfolio of approaches is needed and will continue to be developed to improve cyclist safety."
Police Scotland has also moved to defend its record on road safety.
Supt Iain Murray, head of roads policing said: "Police Scotland is committed to reducing casualties and improving safety on the roads. The most significant challenges we face in this area are risk taking by road users and how individuals interact with each other on the road.
"Vulnerable road users, such as cyclists, are a particular concern and initiatives and campaigns were staged last year to highlight the risks and challenge risky behaviours. This took place at both national and local levels and will also continue this year."
He added: "Where incidents do occur, the circumstances are fully investigated and if the evidence suggests that someone has been to blame for the collision a report will be submitted to the procurator fiscal."
Meanwhile, the Scottish government has allocated £4.5m to Cycling Scotland over the next two years.
The money will be used to promote cycling nationwide and encourage more children to take up on-road cycle training.
Mr Brown said: "This is in addition to the £20m we announced last September towards cycling infrastructure.
"This cross-portfolio funding is the largest amount ever to be allocated to Cycling Scotland and will help to deliver our commitment to the shared vision, as reiterated in the Cycling Action Plan for Scotland 2013, that by 2020 10% of all journeys will be by bike.
"I hope to see this in action this Saturday when I will be attending the 3rd Pedal on Parliament event in Edinburgh."
Green MSP Alison Johnstone, co-convenor of the parliament's cross-party group on cycling, said: "More funding for cycling training and promotion is very welcome, but we will only see this reap rewards if we also make our roads safer.
"If we are still expecting young cyclists to share the streets with lorries, vans, buses and cars, then we must be far more ambitious about upgrading road space."
She added: "I'm especially pleased to see that departments other than transport are contributing to this funding. Increasing our cycling rates should be central to getting a healthier, more active population, as well as bringing environmental benefits."
Last year's Pedal on Parliament attracted more than 3,000 cyclists, including high-profile figures such as Graeme Obree. The campaign has also received backing from Olympic champion Sir Chris Hoy.