Marmion shooting survivor James Hendry admits Edward Dooley killing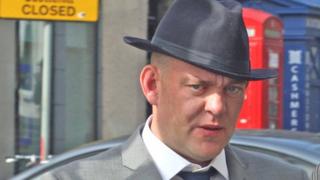 A man who survived the notorious Marmion shooting in Edinburgh has admitted killing an army veteran.
James Hendry, 34, pled guilty to culpable homicide by hitting Edward Dooley on the head in Pentland Lea, Loanhead, Midlothian in October 2008.
The High Court in Edinburgh heard the men did not know each other.
Hendry was wounded in the shooting at the Marmion bar in the Gracemount area of Edinburgh that claimed the life of boxer Alexander McKinnon.
Three men, James Bain, Richard Cosgrove and Bernard Young, were subsequently convicted of the murder.
Spine fractures
The judge agreed to continue Hendry's bail ahead of sentencing at the High Court in Glasgow later this month.
Mr Dooley, 54, fell to the ground suffering skull and spine fractures and internal bleeding.
The Crown initially decided there was insufficient evidence to proceed with a homicide prosecution following the death of Mr Dooley.
However, a decision was later taken to prosecute Hendry and on Wednesday he admitted the culpable homicide of Mr Dooley when he appeared at the High Court in Edinburgh.