Marmion shooting survivor James Hendry jailed for killing man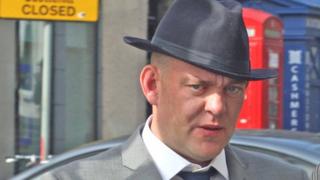 A man who survived the notorious Marmion shooting in Edinburgh has been jailed for 40 months for killing a stranger with a single punch.
James Hendry, 34, attacked Edward Dooley, 54, after finding him in urinating in his ex-wife's garden in 2008.
He pleaded guilty to culpable homicide at the High Court in Glasgow.
Hendry was wounded in the shooting that killed boxer Alexander McKinnon at the Marmion bar in Edinburgh in 2006.
The court heard that Hendry had just got out of a taxi with his brother outside his ex-wife's house when he spotted Mr Dooley.
He struck Mr Dooley, who fell to the ground hitting his head.
Sentencing, Judge Michael O'Grady QC told Hendry: "I accept you did not mean to kill Mr Dooley, but this was a needless and unprovoked attack on a drunk and therefore vulnerable man.
"Any sentence I impose on you will appear to be derisory to the family of Mr Dooley.
"An innocent life has been taken. But for your early plea of guilty, I would have sentenced you to five years."
Prosecutors initially thought there was insufficient evidence to charge Hendry over Mr Dooley's death in Loanhead, Midlothian.
But they decided last year to prosecute him for culpable homicide.
Three men, James Bain, Richard Cosgrove and Bernard Young, were convicted of murder over the Marmion Bar shooting.