Baby ashes scandal report submitted to government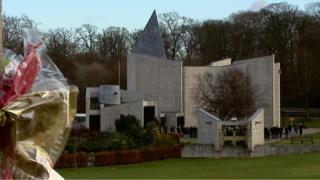 The judge who led the inquiry into the baby ashes scandal has submitted his report to the Scottish government.
The work of the infant cremation commission, chaired by Lord Bonomy, will be published on Tuesday.
Health minister, Michael Matheson, will give the government's response to its recommendations in a statement to parliament that day.
The families of more than 250 dead babies were affected by the scandal at Mortonhall Crematorium in Edinburgh.
A report looking specifically at the Mortonhall scandal, by former Lord Advocate Dame Elish Angiolini, concluded that some parents would never know the final resting place of their babies because the remains been buried without their knowledge.
Some other local authorities have also been implicated, and Lord Bonomy was asked to look at practices at crematoria across Scotland.
The minister thanked Lord Bonomy for his work, and added: "This is an issue, first highlighted at Mortonhall, that has caused a considerable amount of concern across the country and it is right that it has been examined in such detail."
Mr Matheson also thanked those affected by the tragedy for their patience during the investigations.
"I sincerely hope they feel that their views have been taken into account throughout this process and I look forward to continuing to work with them going forward," he said.