Whisky toast for Royal Navy ship in Rosyth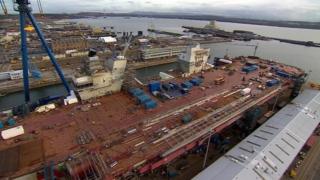 The Royal Navy's biggest ever ship will be formally named this week - with whisky replacing the more traditional champagne at the ceremony.
The Queen will smash a bottle of Islay malt whisky against HMS Queen Elizabeth at the event on Friday.
The ceremony will take place at Rosyth in Fife, where the 65,000-tonne aircraft carrier has been assembled and fitted out.
The whisky to be used in the ceremony will be from Bowmore Distillery.
It was the first distillery the Queen ever visited in an official capacity, the Scotland Office said.
Five years
Scottish Secretary Alistair Carmichael said: "As someone who grew up on Islay I know how much it will mean to the community to have their whisky playing a central role in such an important occasion.
"World class whisky and world class shipbuilding are two of Scotland's finest products so Friday promises to be a special day when we blend the two of them."
The naming of the warship comes five years after the first metal was cut on the vessel and 33 months after the first section entered the drydock at Rosyth for assembly.
The ship and a second vessel, the under-construction HMS Prince of Wales, are the largest warships ever built for the Royal Navy.
They are both termed Queen Elizabeth Class aircraft carriers and are being built by the Aircraft Carrier Alliance (ACA), a partnership of BAE Systems, Babcock, Thales and the Ministry of Defence.
Overall, six shipyards around the UK - Appledore, Birkenhead, Govan, Portsmouth, Rosyth and Tyne - have been involved in building various parts of the carrier.
HMS Queen Elizabeth is structurally complete at Rosyth, although outfitting work is continuing in the run up to the naming ceremony and the ship's introduction to the water in the coming weeks.
Assembly of HMS Prince of Wales is set to begin at Rosyth later this year.
Those behind the project, which costs an estimated £6.2bn overall, say the QE Class ships will be the centrepiece of Britain's naval capability.
Defence Secretary Philip Hammond said: "This ship, the biggest the Royal Navy has ever had, is a demonstration of the UK at its very best with workers from across the Union contributing.
"This will be an occasion when it's ok to spill a drop."