Single arrest at DJ Hardwell gig attended by 7,500 in Edinburgh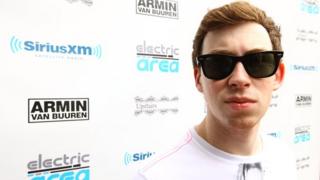 More than 7,500 people attended a gig by Dutch DJ Hardwell at the Royal Highland Showground in Edinburgh.
One man was arrested for obstructing police officers. Twenty people will be reported to prosecutors for drugs offences.
Another woman was taken to hospital as a precaution after taking ecstasy.
Police Scotland thanked the public for their co-operation during the event which ran from 18:00 on Friday until 04:00 on Saturday.
The original date for the gig in February was cancelled after problems during a performance in Belfast.
About 100 people were treated by paramedics and the emergency services declared a "major incident" as they dealt with the effects of alcohol and in some cases drugs.
Police mounted a large scale operation for the Edinburgh gig which included drug detection dogs at the Ingliston venue.
Supt Matt Richards said: "Considerable planning was undertaken by Police Scotland, event organisers and partner agencies to ensure the music fans in attendance could enjoy the atmosphere in safe surroundings.
"I would like to thank the vast majority of those within the venue for their conduct during the event.
"A relatively small number of offences were detected and these will be progressed accordingly.
"However, most people demonstrated a willingness to work alongside police and adhere to the terms and conditions of entry that were set by the organisers."
Hardwell, real name Robbert van de Corput, is ranked number one in the world by DJ Magazine.