Mikaeel Kular: One of the biggest police missing person inquiries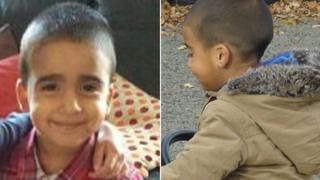 The disappearance and death of Mikaeel Kular shocked and united the people of Edinburgh in equal measure.
Few had any sense of the tragedy that was about to unfold when news first emerged that a three-year-old boy was missing from his home in the city.
Mikaeel's mother was said to be "distraught" as a major ground, air and sea search was launched for her son around the family's flat in Ferry Gait Crescent in the Drylaw area.
It was one of the biggest missing person inquiries Police Scotland had undertaken.
Rosdeep Adekoya had told police the toddler was last seen going to bed at about 21:00 on Wednesday, 15 January.
She claimed he was missing when she and her four other children, including Mikaeel's twin sister, woke the following day at 07:15.
Inundated by offers of help from neighbours, police began to form search parties to comb the area, with hundreds turning up to volunteer.
The volunteers joined hundreds of officers in the hunt, alongside coastguard and lifeboat teams, helicopters, search dogs and the emergency services.
Assistant Chief Constable Malcolm Graham, of Police Scotland, said: "During the initial stages of the inquiry... the local community assisted us greatly in the search.
"What followed was an incredible level of support and assistance to one of the biggest missing person inquiries Police Scotland has undertaken."
However, as the second day of the search wore on with no confirmed sightings, the sense of unease surrounding the circumstances of Mikaeel's disappearance began to grow.
It emerged he had not been seen at his nursery since the Christmas break because he had been ill.
'Angry people'
In the early hours of Saturday it was revealed Mikaeel's body was found in Fife shortly before midnight and a person had been detained.
That person was soon revealed to be Adekoya, who would by the end of the day be arrested and charged over the death of her son.
Police sealed off a house in Kirkcaldy's Dunvegan Avenue belonging to Mikaeel's aunt, Adekoya's sister.
Hundreds attended a memorial service held at the city's Muirhouse St Andrew's Church.
Neighbour Paul Cairns, 46, who was involved in the search for Mikaeel, said he did not know the accused.
"She was really quiet, she stayed opposite us," he said.
"We used to just see the wee boy sitting up at the window, playing with his toys."
He went on: "The whole community came together (to search) and then to be told that he had been killed... There would be a lot of angry people out there. I know that I'm one of them.
"The wee lad never had a chance to start off with. I think the kids should have been kept away from her (Adekoya)."
His daughter, Shannon Cairns, 17, said she felt sickened by the events.
"It's horrible. There's no words to describe how I feel," she said.
'Truly tragic'
The teenager told how she searched parks, fields and woods for the young boy.
Of Adekoya, she said: "She could still have got help. There's no reason not to have got help."
At the High Court in Edinburgh on Friday, Adekoya admitted killing her son and hiding his body in a suitcase behind her sister's house in Kirkcaldy.
Defence QC Brian McConnachie said it was a "truly tragic" case.
He also pointed to the tragedy faced by the boy's father and the "extraordinarily difficult" time for Adekoya's family.
The lawyer also described the case as a tragedy for Adekoya herself, telling the court: "Rosdeep Adekoya is not a monster."
"It would appear she has been a young mother with a number of underlying problems, which the court will hear about in due course, with five young children."