Golden Boy paint work to begin at Edinburgh University's Old College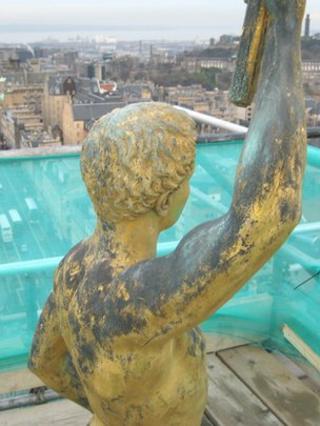 Work is due to start on the Golden Boy statue on the dome of Edinburgh University's Old College.
The sculpture, put in place in 1888, has fallen victim to old age with its gilt paint beginning to crack and fade.
It will be the first time in almost 30 years that the statue, holding the torch of knowledge, has been re-coated with gold leaf.
Old College is in the Old Town of Edinburgh, which is recognised as a World Heritage Site.
Work on Old College was begun by the architect Robert Adam in 1789 and continued by WH Playfair after Adam's death.
A third architect, Robert Rowland Anderson, completed the dome and the sculptor John Hutchison created Golden Boy.
The 6ft high bronze figure is believed to be modelled on Edinburgh boxer Anthony Hall.
The dome has been encased in scaffolding so that stonework and lead fittings surrounding the statue can be repaired at the same time.