Garry Lockhart 'killed son in reincarnation bid'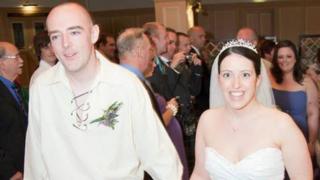 A man has told a court he killed his son due to his belief in reincarnation after also killing his wife.
The court heard Garry Lockhart admit drunkenly strangling his wife Janet and suffocating two-year-old Michael at their home in Bonnyrigg in December.
The 33-year-old said he killed his son and planned to kill himself so the three could be together again.
The funeral director offered a guilty plea to murdering his wife and the culpable homicide of his son.
However this plea, made on the grounds of diminished responsibility, was rejected by the crown and the two murder charges remain.
During his trial at the High Court in Edinburgh, Lockhart was asked by his defence solicitor advocate Brian Gilfedder if he accepted murdering 29-year-old Janet and killing Michael, to which he replied "yes".
He agreed that he had "snapped" during a row with his wife after returning home drunk in the early hours of 28 December.
When asked what went through his mind when he realised Mrs Lockhart was dead, he said: "I could not believe it had happened. I didn't believe it was real.
"I sat for a while and during that time I thought of getting back with Janet.
"Because of the way I was thinking, the only way this issue could be resolved was for Michael and I and Janet to come back together as a family unit."
When asked by My Gilfedder if he was talking about reincarnation, he replied: "Yes."
"I hoped if I had a successful suicide attempt I would be with Michael and Janet," he said.
"The thought process at the time was wrong. I don't know what kind of life I would have had, but I would still be living."
When asked by his solicitor if he would have harmed Michael if he had not killed Janet, he replied: "No."
In response to further questioning from advocate depute Iain McSporran, Garry Lockhart continued: "I should not have killed Michael and Michael would be here just now and be brought up by his grandparents.
"My thought process at the time was for us to be together. It is different now. I should not have killed Michael."
Asked to clarify his beliefs in reincarnation and the afterlife, Garry Lockhart described it as "an improved level of existence" and said: "You can come back a number of times and eventually you will end up in heaven."
The trial before Lady Wise continues.