Teenager Robbie Gemmell sentenced over fatal crash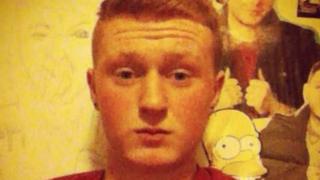 A teenager whose careless driving caused the deaths of three school friends has been sentenced to 300 hours of community service.
Robbie Gemmell was at the wheel of the Peugeot 206 when it left the road and hit a wall in Tyninghame last November.
Jenna Barbour, 18, Josh Stewart, 16 and David Armstrong, 15, were all killed.
Sheriff Gordon Liddle said he was persuaded not to jail Gemmell, and that if he had done, the law meant he could be released in a few months.
'Inexperienced driver'
Gemmell has previously pleaded guilty to causing death while driving without due care and attention.
In a statement read out in court, Susan Stewart, Josh's mother, said there were "no winners or losers" from the case.
"Nothing will bring Joshua back," she said.
"We can only hope that lessons can be learned through our loss and the circumstances of this incident.
"That when an inexperienced driver gets behind the wheel of a car and loses concentration for a millisecond this can cause life-changing effects.
"Our son paid with his life for the consequences of his actions that night and we have to live with that for the rest of our lives and try and pick up the pieces and live our lives to the full as Joshua would have wanted."
'Futile attempt'
The court heard Gemmell originally told police officers that he was a front-seat passenger in the car.
He made a 999 call to ambulance control after the crash, prosecution lawyer Graeme Jessop said, following the instructions of the call handler "in a futile attempt to provide assistance to the injured passengers".
Defence lawyer John Scott told the court his client suffered from depression and was haunted by the memory of seeing his three best friends die in front of his eyes.
Sheriff Liddle told Gemmell: "You were injured in the collision. Following the collision, you were concussed and disorientated. You contacted the emergency services to get assistance.
"It is clear from the recording of that phone call that you did everything you possibly could to render assistance to your friends who were injured in the collision.
"Tragically your efforts were in vain and all three of your friends died."
The sheriff ordered Gemmell to perform the community service within 12 months. He also banned him from driving for four years and ordered him to be supervised by the authorities for two years.
He added: "No-one could fail to be moved by the tragic loss of these young promising lives in such avoidable circumstances."